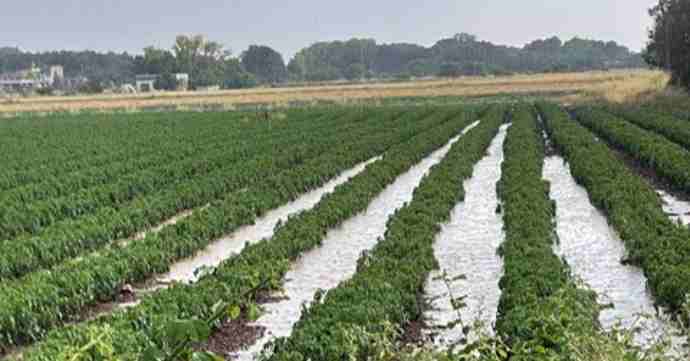 In the last 5 years , 200 million quintals of food have been lost in Puglia due to catastrophic events, for which a tightening of innovative investment and digital agriculture tools is needed to protect agricultural and agri-food products and business income, after 30% of farms in Puglia have been lost in 10, which however have become larger and more performers. This is what Coldiretti Puglia affirms, on the basis of the 7th Agricultural Census and the preliminary estimate of the economic accounts of agriculture by Istat, with agriculture bearing the brunt of the high production costs, the crazy climate, the unfair competition, in a scenario aggravated by the effects of the conflict in Ukraine, with energy price increases that have increased the production costs of farms with a devastating impact on budgets, but also on consumer spending.
From 2010 to 2020, farms increased from 271,754 to 191,430 in Puglia, which remains the most agricultural region in Italy with 1.3 million hectares cultivated and withstood the crisis in 2022 with a positive balance between openings and closures of 546 farms (+0.7%) – underlines Coldiretti Puglia – despite the significant increase in the prices of the products purchased (+23.6%) with leaps concerning fertilizers (+63.4%), energy products ( +49.7%) and animal feed (+25.1%) according to Istat.
Meanwhile, the turnover of agriculture 4.0 is growing by 31% in one year which, between drones, robots, satellites and remote controls, exceeds 2 billion euros of investments to save crops even against the effects of crazy weather between drought and bad weather.
A difficult climatic situation that risks becoming structural and which – Coldiretti Puglia highlights – requires farmers to adopt an innovative approach to work on the farm with 4.0 solutions that are able to optimize the available resources: from continuous monitoring weather stations connected to the satellite to monitor the soil moisture and water distribution, hi-tech systems for the targeted distribution of fertilizers only where needed and in optimal climatic conditions for maximum yield, use of precision farming equipment to speed up processing and save crops in situations of emergency.It is no coincidence that 65% of the investments – Coldiretti continues – concern advanced technology machinery such as the GPS guide and monitoring and control systems of the processes and surfaces involved.
As part of the Pnrr, Coldiretti has presented, among other things, supply chain projects for investments from pasta to meat, from milk to oil, from fruit to vegetables with more than 50 proposals and thousands of farmers, breeders, processing companies, universities and research centers involved. A commitment that – Coldiretti concludes – has the objective of combating price speculation with a more equitable distribution of value along the supply chain to protect consumers and farmers' income from unfair practices.
Regarding the PugliaReporter.com blog , we remind you that it is possible to receive all the news in real time from Telegram by registering at the following address > https://t.me/pugliareporter < from Instagram at the following address > instagram.com/puglia_reporter < as well as from Facebook by clicking " like " on Facebook.com/PugliaReporter and from Twitter at the following address > twitter.com/pugliareporter < . Also through Telegram it is also possible to send us reports in real time also withvideos and photos . It is also possible to write to us via Whatsapp to send us reports also with photos and videos by clicking here and subscribe to the Whatsapp group to receive our links by clicking here .